Xi'an: April 18
Xi'an Hi-Tech International Travel Service and Cultural Travel Centre
Room 806, Building Qinfei
172 East Mutoushi
Xi'an, PRC 710001
Contact: Mr. Richard Wang (General Manager)
Tel, work: (029) 7259694
Tel, home: (029) 8210515
Fax: (029) 7264323
Email: rwxcn@public.xa.sn.cn
Founded in 1995 by Richard Wang, Xi'an Hi-Tech International Travel Service (XHTITS) serves international travelers visiting China who are particularly interested in experiencing China's culture (past and present) and historic sites. XHTITS' goal is to give all visitors to China ample opportunity to participate in cultural and educational exchanges while visiting the Middle Kingdom. XHTITS can design an itinerary to address your personal and group needs. You can count on a pleasant mix of rustic cultural experiences, modern comforts, tours of archaeological sites, wonderful meals, exotic evening shows, even some Chinese lessons, all provided by well-informed and very pleasant staff. XHTITS receives inbound travelers from all over the world. Travel itineraries can be arranged for all over China and Hong Kong. XHTITS provides educated guides who keep you in a note-taking mode throughout your trip. English, Japanese, German, French, Spanish, Italian-speaking guides are available to lead you and your groups. All hotel and ticket booking chores are handled efficiently by XHTITS staff. XHTITS also serves those wishing to travel abroad.
Richard Wang is an extraordinary fellow. One cannot help but be drawn by his positive personality and optimism. His is a story of modern China. Born in a backwater rural village, he has found success and happiness in the international tourism industry. He is proud of China and conducts his business with a warm, humble but efficient joie de vivre. Richard majored in English at Xi'an Foreign Language Institute (1975). He worked for five years in the Foreign Affairs Office of Shaanxi Province, Xi'an. In 1980-81, the government sent him to the US to study tourism and hotel management at the Metropolitan State College, Denver, CO. In 1988 he was accepted for a position and attended a special course on Management in Hong Kong. Richard has traveled extensively throughout SE Asia with trips to Malaysia, Thailand and Singapore. He has also visited Japan.
New Millennium Ride is not in the business of promoting travel services. XHTITS is different. I am extremely grateful to Richard for his help. He and I worked together, via Email, for two months before I arrived in Xi'an. He organized a two-week tour of China for the New England China Network. I joined the 21 teachers of that tour, whose visit to Xi'an coincided with mine, for two days. We visited historic sites in and around Xi'an and traveled 30 Km to visit Pang Liu Village, where Richard grew up. I wholeheartedly recommend anyone who plans to visit China contact Richard Wang.
XHTITS is an acronym for personable and efficient service. With 18 staff members working happily together, Richard guarantees your vacation to China will be memorable and as pleasant an experience as you can imagine.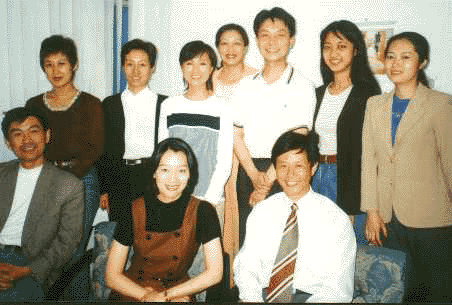 Xi'an Hi-Tech International Travel Service: Company Staff

---
Home Page
|
Mission Statement
|
Executive Summary
|
Thanks
|
About this Website
Current Location
|
Route
|
Schools
|
Sponsors
|
Links
|
TecManiac