School Contacts:
General Information:
principal@biss.com.cn

Admissions:
admissions@biss.com.cn

Recruitment:
job@biss.com.cn

Student Council:
studentcouncil@biss.com.cn

Webmaster:
webmaster@biss.com

School Information:

Founded 1994
Pre-school through Grade 12
300 Students from 45 countries
60 teachers and academic staff from USA, England, Australia, New Zealand, Singapore, China, Scotland, Ireland, France and Korea.

School Presentations:
May 4th

Computer Room meetings to introduce NMR Web site.

May 6th
Elementary School Asembly (150 children)
Upper School ESL (Communication Excercise)
7 & 8 Grades (Communication Exercise and Desert Survival)
Upper School Assembly (150 students and faculty members)

May 7th
7 & 8 Grades bicycle ride to Temple of Heaven, Ultimate Frisbee introduction

May 8th
Met with staff (student and faculty) of BISS school paper, "Broadcast".


Special Thanks:
From my first connection with Paul Buckley, the Upper School Coordinator, in October 1998, BISS has been a very active participant in the New Millennium Ride. Initial interest came quickly and for months Paul Buckley has been very generous with thoughtful suggestions and timely advice that has helped NMR greatly. A thousand thanks to Paul -- and to your family, Lindy and Kelly - for your hospitality and generosity. It is clear that you do what you can with the best interests of your students in mind. May you and BISS enjoy the smooth sailing that comes with fair winds and following seas.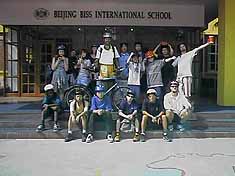 Everett and BISS Students
"BISS welcomed NMR like no other institution yet visited. The success of future school visits will be measured against the very high standard established by BISS, its faculty, staff and student body."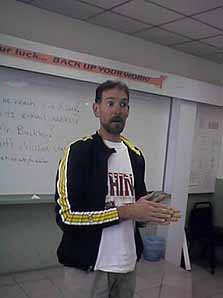 EBB Teaching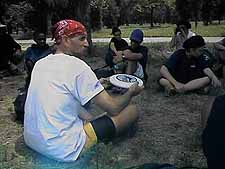 Teaching Ultimate Frisbee
CLICK HERE FOR ULTIMATE RULES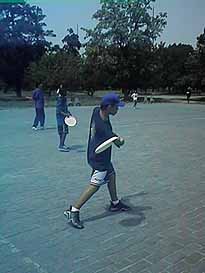 Practicing Ultimate Frisbee