School Contacts:
Valery Purtov
ENGLISH TEACHER
Office Phone: 7-3952-24-32-32
Home Phone: 7-3952-34-08-09

NMR Presentation:
July 8, 1999

Senior Boys Class (~50 students)
Senior Girls Class (~50 students)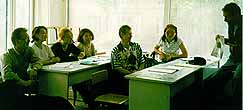 EBB and English majors compare and contrast American and Russian education philosophies and systems
School Information:
Founded 1948
~2500 day students
~1000 "distance learning" students
Staff includes language instructors and ~20 professors specializing in theoretical linguistics.
Curriculum focuses on educating foreign language teachers and translators.
Students take courses in theory, practice and methodology.
The course of study for a diploma is 5 years, like all universities in Russia, except medical schools which are 6 years.
Languages taught: English, German, French, Spanish, Chinese, Japanese, Korean.