Istituto Professionale Alberghiero `Alfredo Panzini´ is a four-year vocational school offering students two professional tracks, tourism and culinary arts. Students in vocational schools rarely aspire to continuing their education on the university level, however, the curriculum of these schools includes classes in the core subjects. In recent years, computer science has been added to the curriculum – some teachers allowed that the dynamic quality of current developments in high tech industries seduces many students and dilutes their interest in school work. The Istituto has a limited PE program: students can use a local swimming pool, some play tennis; but, volleyball is the main attraction.

Most of the students are enrolled in the Culinary Arts Course of study. They are interested in being chefs or running their own restaurants. Most will stay in the greater Loreto area. Those who take their studies seriously, specifically English, open doors of opportunity to work abroad in hotels and upscale restaurants, cruise ships, resorts. Specialty courses focus on skills and theory, nutrition, history of culinary arts, bar tending, etc.

The tourism course puts more emphasis on the liberal arts and second language, primarily English, skills and aptitude development. The students in the tourism course are interested in travel, history, arts and culture. They aspire to work as guides and being travel agents – some will establish their own travel agencies.

Thank you Paola Petrocchi for your kind welcome and for inviting me to join you at the "head table" for lunch. I have visited many schools, eaten in hundreds of school lunch rooms in my life – never have I had such a "school lunch" before. I can still taste the artichoke filled ravioli! Paola Traferro thank you for the special attention and information you provided during the tour of Loreto. Fabio Elmi, thank you for taking the time to give me my initial tour of the school and particularly for giving me access to the school computer facilities. Finally, a special thanks to the student chefs who prepared the fabulous feast. Your future customers will have to exercise serious restraint to keep from growing fat on the delicacies produced in your kitchens.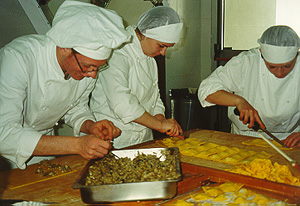 Artichoke Ravioli!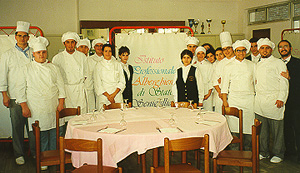 Teachers and Student Chefs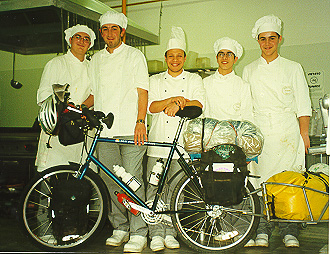 These guys understand
in bocca al lupo....