Thanks:
Thank you Ms Kopsa and Ms Hamalainen for including me in your program and plans of hospitality for your Vyborg Gymnasium visitors. It was wonderful to be able to spend extra time with my friends from Vyborg and to visit with students from your school in the extra-curricular program at Meriharuun Leirikeskus.

Thank you MessieursHirvonen and Tonteri for kindly offering to stable my "horse" in the industrial arts workshoop during my visits at your school.

A special thanks to Ms Kirsi Arino for taking a pro-active interest in NMR. I am grateful to you for letting me address your students and for weaving NMR into your geography classes.


I look forward to visiting Kapylan Ylaaste and seeing you all again in the Spring of 2000.
Kapylan Klubi
Across the street from Kapylan Ylaaste, on Vainolankatu, is the eclectic, friendly, comfortable young people's retreat, Kapylan Klubi. Sari Nyman has created a safe haven for teens who might otherwise stray from the middle path and fall prey to sinister elements of modern society. The klubi (cafe) has a lounge area (where I spent my last night in Finland) complete with magazines, books, a stereo system, TV and VCR. There's a pool table and a art studio. Sari maintains a kitchen where one can buy drinks, pastries, fruit, sandwiches, and desserts. Kapylan Klubi is a great place for students to meet and socialize. The atmoshere and warmth there makes it a great place for out of town visitors too. Thank you Sari and Heikki for your extremely kind hospitality.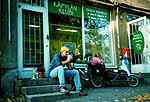 EBB sips tea in front of Kapylan Klubi