Contacts:
Ms. Marina Voitsekhovskaya
PRINCIPAL AND CHEMISTRY TEACHER
Ms. Ada Lyagena
ASSISTANT PRINCIPAL AND
HISTORY TEACHER
Ms. Yelena Petrova
ENGLISH DEPARTMENT HEAD: 282-2080

Ms. Olga Emelina
CONTACT TEACHER: 533-7756
psm@ibs.ru.
---
Transfer interrupted!
0">School Information:
Founded 1961

The students who attended the NMR visit to School 1201 distinguished themselves as among the most enthusiastic, interested and opinionated, articulate and outspoken students I have met yet. (The English teachers who attended the conference were delighted, surprised at the extent and level of participation of their students.)

Discussion, which followed the NMR presentation, started as soon as I opened the floor for questions and comments. It gained momentum quickly and remained energized for well over an hour. Current events and regional developments in the Caucuses, Serbia, and Chechnya highlighted nationalistic points of view and provided opportunities for some students to criticize the US and NATO and justify Russia's current military campaign.
NMR Presentation:
September 28, 1999
Auditorium presentation for 10th graders, 54 students, aged 14-16. (2.5 hours)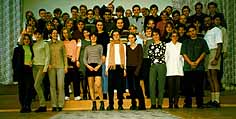 NMR Visits School1201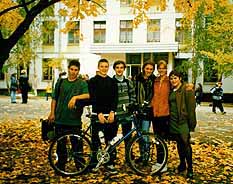 NMR Fan Club
On the other hand, on several occasions I was pressed to present a view of Russia, a very positive view, which conflicted with the students' perspective of their own country. It is a sad when government propaganda sows seeds of fear, mistrust, and hatred. (Years of hyped mistrust have created strong prejudices - in the West, as well as in the East - that may take generations to overcome.) Several students expressed their restlessness and inability to sleep well at night due to the recent bombings throughout Russia. "Most Russians are evil, corrupt, and violent," so said a girl of 14. The general mistrust of strangers and foreigners was palpable. I challenge the teachers of School 1201 to plant the seeds of hope and teach the skills and attitudes that will empower their students and motivate them to be pro-active in positive ways.

The love/hate feelings that some Russians harbor about America have not been very evident in my school visits. The students at School 1201 pulled no punches. I am happy to report that mutual respect and gentility was never lost. I was sorry that we could not continue our discussion into the afternoon; as it was, the students opted to skip French and physics to continue asking and answering questions well beyond the allotted time.

Following the NMR Presentation/Conference, I met with the Principal and Olga Emelina. It seems that School 1201 has had significant experience in student exchange programs with American schools. For the past two years the program has been inactive (which might help account for the confused views about America expressed by the current upperclassmen). In the past School 1201 has sent students and teachers to live with American families and study/teach at schools in Denver, Cincinnati, Washington, and New York. The program "expired due to the changing economic situation in Russia – the Russia government once paid the travel expenses of students who qualified to study abroad."

School 1201 is an excellent candidate for student exchange programs. If you would like to study in Russia, please contact Ms Olga Emelina.