School Information:
Founded 1991

Educational Philosophy
"The educational philosophy of Hinkson Christian Academy (HCA) is based on the God-centered view of truth as revealed in the Bible, the Word of God.
"Since God created and sustains all things through his Son, Jesus Christ, the universe and all life are dynamically related to God and have the purpose of glorifying Him.
"This is pointedly true of people who were made in God's image, different in kind from other creation, with the unique capacity to know and respond to God personally.
"Because people are sinners by nature and choice, they can know and honor God in their lives only by being born again through receiving Jesus Christ as Savior the Lord.
"Thus they are enabled to glorify God by doing His will, which is the ultimate purpose of life.
Contacts:
Ms. Elspeth Liebenberg
ACTING DIRECTOR AND
CONTACT TEACHER

NMR Presentation:
September 27, 1999

Presentation to high school student body and faculty - 1 hour.
Presentation to 5th grade (40 minutes)
Visited Russian class, Bible studies, 2nd grade, library/computer lab, Senior Club.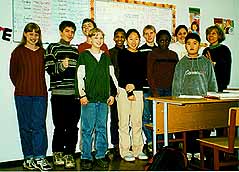 Russian Language Class