Didi Ananda Kalika
PROJECT MANAGER
Family Groups
Didi Kalika started the Lotus Center in 1994 as a response to the growing street children crisis. It is a pioneer project for child care in Mongolia, being the first to move away from the Soviet institutional style, and the first to locate in ordinary suburban surroundings. The government has taken a special interest in the model, calling it "the ones who make family groups."
The Lotus Center is a series of four family homes in Yarmag district. The children live in small groups that provide an atmosphere as close as possible to normal family life. They share responsibilities, such as helping with the daily chores, and looking after children younger than themselves. In fact, the children find a mutual support structure that they have never experienced before. Their standard of living is not changed too much, either, otherwise it would be difficult for them to adjust when they start their own families.
Finding loving attention again
Many of the children are referred to us by the police who pick them up off the streets. One day the police had eighteen children lined up for Didi to take home. Her heart went out to those brave boys and girls, knowing of what they had been through - the beatings, the lack of love, hunger, freezing winters, sexual abuse. The children smiled as sweetly as they could and said, "Me! Me! Take me! I'll be good!" But she could not take them all so she picked out the girls and youngest boys. It was painful to her to have to leave the rest behind.
Since the Lotus Center opened it has catered to over 140 children with grants and technical support from AMURT*. Some children only stay for a short time while their families are overcoming a crisis, while others stay for much longer periods. There are currently 40 residents, including twelve infants. Two babies were recently came from Mothers and Childrens Hospital. Didi has agreed to take in any babies abandoned at the hospital in return for free health care for all her children.
The Lotus Center believes in giving the children a balanced upbringing. Those who are old enough, go to government schools. Back at home, the children learn skills such as cooking, gardening, sewing, and computing. Every summer the children spend a month camping on land in the countryside owned by the Lotus Center. This is their favorite time of year when they can enjoy the wide open spaces. But it is the loving family atmosphere which nurtures the children the most. "When they get a little of this," says Didi, "They cling to it like life itself."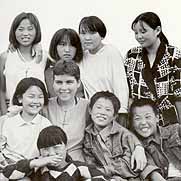 Didi with Children from
Lotus Center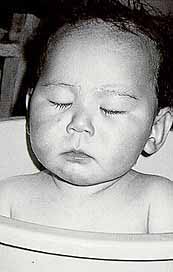 Snoozing